Generic Gold – 1kg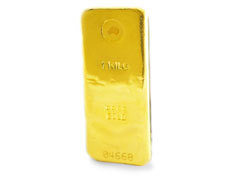 $84,627.55 /unit
Only $234.99 over spot
Buy Back Price: $81,001.25
*** Back-order Only ***
ETA mid to late April 2020, this may change if further restrictions are in place due to COVID-19.
Please ring our office before placing your order if you are unsure.
Our generic range of gold bars will vary according to stock availability, and may includes new products of various brands, or quality tested buybacks.
Picture is for illustration purposes only, and represents a sample of the types of gold that may be used to fulfil orders.
| | | |
| --- | --- | --- |
| Metal Content | (Kilogram) |      1.000 |
| Fineness | (% purity) |      99.99 |
$84,627.55 /unit
1 in stock (can be backordered)
Why Gold?
All of our gold items in one place - use the Sort dropdown on the right to view by name or price, or dive deeper into our catalog by browsing our coin and bar categories.
Why trade with Gold Stackers?