A Momentum Lead Capitulation in Platinum, A Major Triple Bottom Develops?
3rd July 2018  – By D Mitchell
Platinum has seen a recent dramatic fall in price. In fact in just over 2 weeks from 1st June 2018 the noble metal has crashed from $910.00 to a low today of US$ 798.50 a near 12.25% fall. What indeed could be causing this overwhelming rout?
Please see technical analysis triple bottom chart below: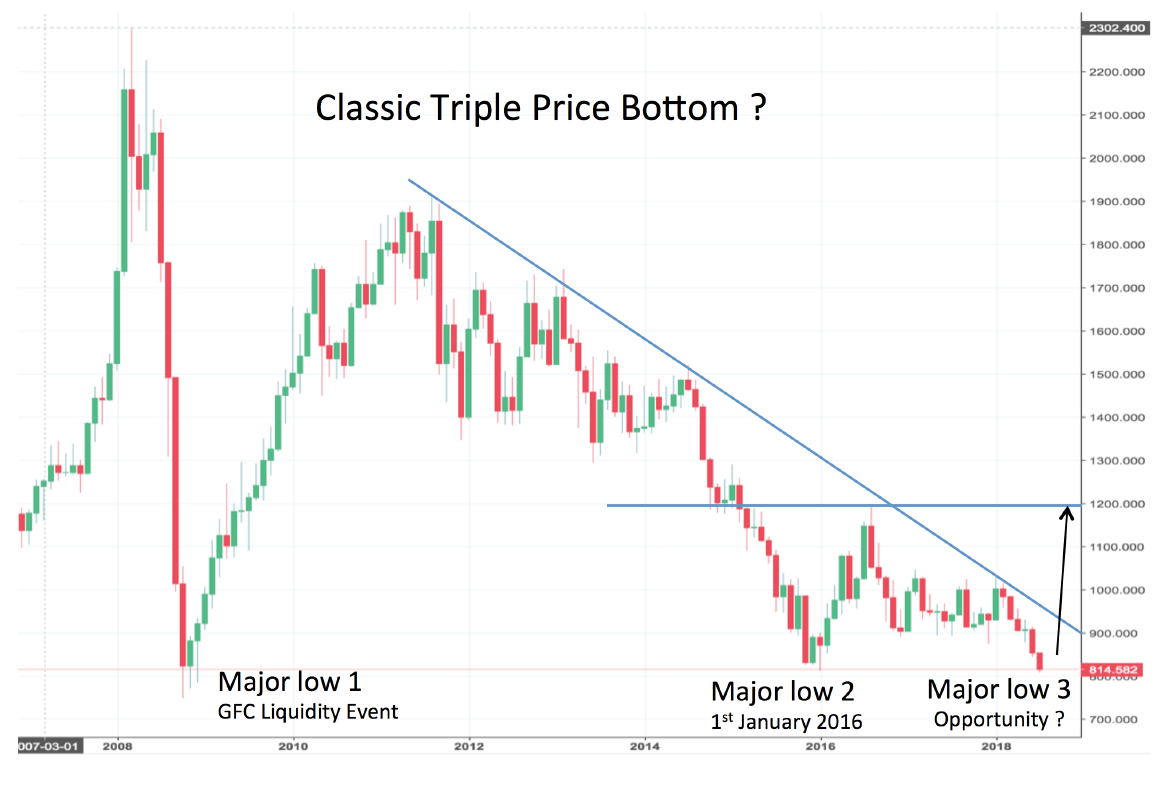 The common themes highlighted in the financial press are as follows :
Platinum markets fell this week as global fears continued about trade disputes, economic slowdowns and rising interest rates, all of which could hurt demand – when in fact we are seeing global demand for vehicles and strong demand in the PGM's (platinum group metals) where in fact palladium, rhodium and ruthenium are all holding higher pricing (they come from the same mines as platinum).
Almost 40 per cent of platinum's demand comes from the automotive industry, where it is used in catalytic converters, especially in diesel vehicles. However, demand for diesel vehicles has collapsed worldwide following the Volkswagen emission scandal of 2015, when it was revealed that many diesel vehicles polluted far more than advertised. Again this is not strictly correct as major developments by the car manufacturers to achieve lower emissions via catalytic loading of higher rhodium and platinum content have led the huge rally in rhodium of the last 18 months.
Gasoline-powered vehicles usually use a chemically similar, albeit far inferior, metal palladium instead of platinum, as palladium was historically far cheaper than platinum — anywhere from half to one-fifth the cost.  Now, as the platinum price has collapsed, palladium is worth $120 more than platinum, setting up a highly likely market reversal for a huge increase in platinum demand in the face of Euro 6 compliant catalysts (Requirement from September 2015) which has to use more platinum per car to achieve the lower emissions requirements. Selective Catalytic Reduction (SCR) systems also contain platinum
The more likely excuse for the fall in platinum has been momentum trading on the paper exchanges in the face of a higher US$ on the FX markets, coupled with falls in the South African Rand and weak base metals prices.
In the long term, cheap prices will likely cause industrial users to use more platinum, but the market is stuck in a 'sweet spot' of malaise for now, creating an interesting opportunity for the patient investor.
Historically, platinum has been valued higher than gold, but now is over $400 per oz. cheaper, meaning that platinum-gold ratio has now hit the most oversold picture ever recorded.
Technical Triple Bottom buying Opportunity?
Of course, we need to confirm the chart patterns by breaking back through the US$ 920 per ounce trend line, but also and much more importantly we need to break the high of US$ 1,200 which was the high proceeding major low 2 to confirm we are indeed correct.
BROWSE PLATINUM NOW
About David Mitchell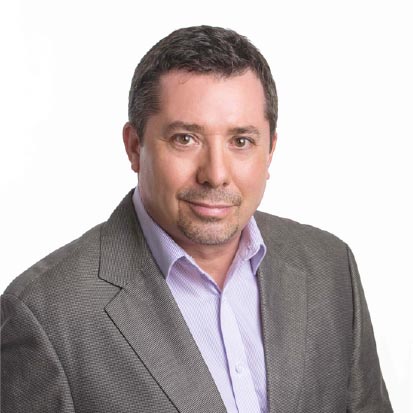 David Mitchell is a friend and respected colleague of Gold Stackers.  David has nearly three decades of experience in the financial markets working for some of the world's leading international banks.  Some of his most notable roles have been Head of Proprietary Trading, Europe and Head of Spot Trading, Asia-Pacific for HypoVereinsbank AG; Chief Dealer and Manager of the G10 Desk for HSBC; and Chief Dealer at the
Forex Desk for NationsBank Group, Singapore.
David brings his expertise and energy to the role of Managing Director of Baird & Co Asia, and Founder and Non-Executive Director of Indigo Precious Metals.

IPM Group, indigopreciousmetals.com has a presence in Singapore and Malaysia and trades in physical precious metals. Its primary focus is the supply and physical delivery of investment grade precious metals directly to customers.
David is a skilled economic writer, he produces regular commentary to demonstrate his views on precious metal investing. His articles and reports are insightful, full of factual data and references and are a valuable source to assist with investment decisions. David mixes his connections, experience and analytical mind with an entertaining and explanatory writing style that is enjoyable and easy to read.
"I approach my long-term trading strategies from a knowledge based on how all markets and assets classes are inexorably linked to each other within major cycle trends in capital flows."
How Gold Stackers and David Mitchell work together:
The team at Gold Stackers Australia enjoys regular communication with David Mitchell in several ways:
– David shares his views on precious metal investing with commentary, team training and regular updates about the fiscal environment, Macro Economic drivers and supply and demand scenarios affecting precious metals.
– IPM and Gold Stackers work closely in offering solutions for investors to trade and store precious metals including offshore vaulting of Palladium and Rhodium.
– David has recently been appointed Managing Director of Baird & Co Asia and hence a partner of Gold Stackers who is an official distributor of Baird & Co in Australia.
BROWSE PLATINUM NOW
Disclaimers : IPM Group Pte Ltd. 30 Cecil Street, #19-08 Prudential Tower, Singapore, 049712, Company Registration No: 201428070N. All rights reserved. Any reproduction, copying, or redistribution, in whole or in part, is prohibited without written permission from the publisher.
The information contained herein is believed to be reliable, but its accuracy cannot be guaranteed. It is not designed to meet your personal situation – we are not financial advisors, nor do we give personalized advice.

The opinions expressed herein are those of the publisher and are subject to change without notice. It does not take into account the particular circumstances, investment objectives and needs for an investment of any investor, or purport to be comprehensive or constitute investment advice and should not be relied upon as such. You should consult a financial adviser to help you form your own opinion of the information, and on whether the information is suitable for your individual needs and aims as an investor. You should consult appropriate professional advisers on any legal, taxation and accounting implications before making an investment.