2015 Back to the Future – Delorean – 1/4oz Gold Proof Coin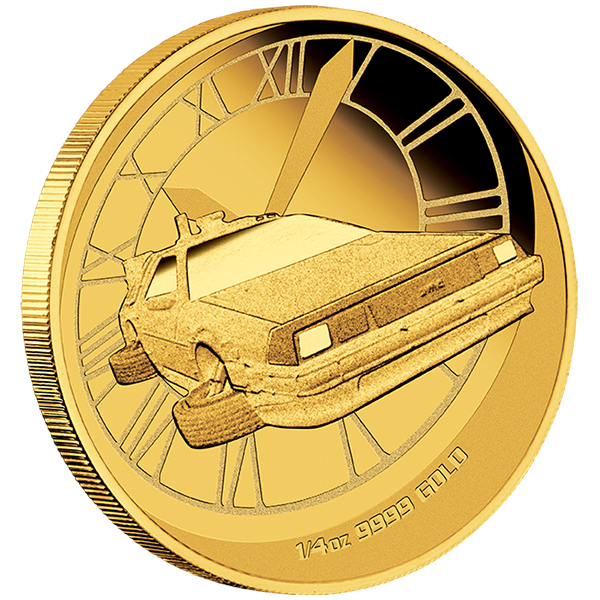 $750.00 /unit
Only $183.38 over spot
Buy Back Price: $532.30
Thirty years after the box office success of Back to the Future, we are excited to present the 2015 Back to the Future 1oz Silver Proof Coin.
Back to the Future is an American science fiction comedy film released in July 1985 and starring Michael J. Fox as Marty McFly, a high school student who accidentally travels 30 years into the past to 1955, jeopardising his own future existence.
From the Academy Award-winning filmmakers Robert Zemeckis and Steven Spielberg comes Back to the Future – the original, ground-breaking adventure that sparked one of the most successful trilogies ever! When teenager Marty McFly (Michael J. Fox) is blasted to 1955 in the DeLorean time machine created by the eccentric Doc Brown (Christopher Lloyd), he finds himself mixed up in a time-shattering chain reaction that could vaporize his future – and leave him trapped in the past.
In the second film, Back to the Future II, Marty travels 30 years into the future to 21 October 2015, predicting several advances in technology including the use of hoverboards as a means of transportation.
Struck by The Perth Mint from 1/4oz of 99.99% pure gold in proof quality, this coin is issued as legal tender under the authority of the Government of Tuvalu. No more than 1,000 of the 2015 Back to the Future 1/4oz Gold Proof Coin will be released.
The coin is presented in a prestigious wooden case within a beautifully illustrated shipper and is accompanied by a numbered Certificate of Authenticity.
Why trade with Gold Stackers?