$200 Koala Gold Coin (Buyback)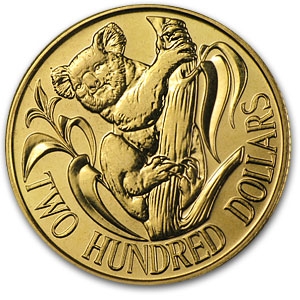 $807.15 /unit
Only $140.12 over spot
Buy Back Price: $626.60
$200 Koala and similar designs (e.g. Commonwealth Games, Royal Wedding) gold coins in bullion and proof grades. These coins are buybacks, and are subject to availability.
We do not catalog the dates of stock on hand in this item, and are unable to respond to customer requests for specific years. Orders will be filled with random dates of our choice.
There were a number of designs released by the Royal Australian Mint in the $200 22k format – when ordering this coin, typically bullion Koalas will be supplied, however orders may be filled with any available design, in bullion or proof grade, with or without packaging.
| | | |
| --- | --- | --- |
| Metal Content | (Troy oz) |      0.295 |
| Fineness | (% purity) |      91.67 |
| | | |
$807.15 /unit
101 in stock
Why Gold?
All of our gold items in one place - use the Sort dropdown on the right to view by name or price, or dive deeper into our catalog by browsing our coin and bar categories.
Why trade with Gold Stackers?